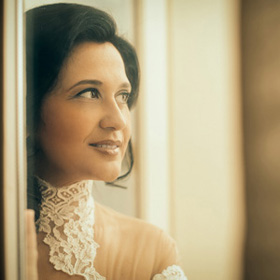 Born in Monopoli, on April the 9th, Valentina is precise and meticulous. She is enthusiastic about everything she does and is always ready to embark on the challenges of life and work. With Valentina, nothing goes unnoticed! Lover of literature and art, writing is her second passion (after the weddings and the "happy ending"). For this reason she is also journalist for a local TV in her hometown. Valentina is the "reflective" and "talkative" part of Bufano Dream Planners.
Hello!
Bufano Dream Planners was born from the passion of two sisters (Valentina and Roberta) for everything that is refined and at the same time original, with the aim to impress the guests and make happy the newlyweds who can rely on these sisters' strong experience.
The staff of Bufano Dream Planners will help you realizing the wedding that you have always desired and dreamed of, making it real and most of all: unique.
~
WE REALIZE YOUR DREAMS

~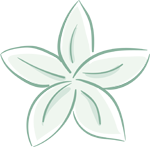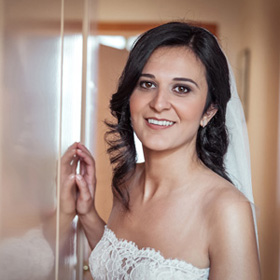 Born in Monopoli, on October the 20th, after childhood and teenage dedicated to "experimenting" and "playing" with any kind of color, she graduated from the Institute of Art. The passion for art in general leads her to graduate at the Faculty of Literature and Philosophy. Roberta enjoys painting on different types of supports, using different techniques. Recently Roberta took interest into "pop-art". Roberta is definitely the whimsical and creative part of Bufano Dream Planners.

It is only in the heart that one can see rightly, what is essensial is invisible to the eye
~ Antoine de Saint-Exupéry ~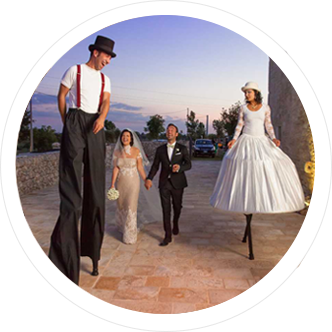 Why choose us
Has the long-awaited and desired proposal arrived? Have you finally established the date of your wedding? Now begins the real challenge towards the preparations: the dream location, the right dress, the ideal choice for your Day of Days, the perfect invitations, the final details and … the unexpected last minute!
Welcome dear bride and groom to the world of Wedding planning, where happiness, anxiety, joy and stress always come at the same time, but ultimately create an unforgettable day.
Do you want to arrive calm and relaxed on the day of "Yes I do"? But you have too many work commitments to dedicate valuable time to your big day?
If the answer is YES, the key to your solution is DELEGATION!
Stress less and save more by hiring a Wedding Planner!
Creativity, intuition, organisation, practical sense, ingenuity and a pinch of psychology (to help you overcome the unexpected moments), are just some skills of a great Wedding Planner, ready to become your wedding-guardian Angel. Did you know statistics claim that a wedding organised by a wedding professional, costs an average of 20% less than doing it yourself? Management of the budget, a wide range of selected and professional collaborators along with creative planning of the entire event in every minute detail.
Are you ready to take this "journey" that will show your nearest and dearest guests how perfect your day will be? With our help and support we can make this reality! Request a free quotation of our services, with no obligation, or contact us directly to arrange an appointment. Let's start by getting to know each other!
Valentina e Roberta
We were together. I forget the rest
~ Walter Whitman ~
Wedding
The art of the Wedding Planner is to create beauty. A perfect Wedding Day is represented by many threads that create e a very precious and unique canvas, made of feelings, harmony, suggestions and love. A delicate and romantic journey that realizes the future newlywed's dream and that gives unforgettable moments to everyone present. Everyone has the right to live a fairy tale. Bufano Dream Planners tries to make it real and perfect.
Trust the Bufano Dream Planners for the care of details. To better organize your most beautiful day. Taking care of the Bride and her spending budgets is the mission of the Bufano Dream Planners project.
Events
Bufano Dream Planners is ready to support you in organizing private or business events: from a simple birthday party to more important events; from a Christmas dinner party to conventions. This is done by taking care of every aspect of the event, from planning to realizing the day. From the first meeting the needs, aims and budget of the event will be analyzed carefully, to translate all the requests into a concrete project that allows us to achieve the objectives set. The Bufano Dream Planners will personally take care of the realization of every little detail that will make the event unique. This by being present on the day and playing an important role in directing and coordinating, so that everything can go as planned. Valentina and Roberta have a strong experience in planning and realizing, having meticulous care and attention to details. Planning events like baby showers, baptisms, children's parties, communions, confirmations, graduations, birthdays, hen and stag parties, anniversaries and any other anniversary that deserves to be celebrated is what we are best at.
When you really want love you will find it waiting for you
~ Oscar Wilde ~
Services
Bufano Dream Planners aims to realize every desire of yours. Therefore we await you for a first interview, during which the idea of your event will take shape, thanks to our experience and our imagination. It will be just like you always imagined and dreamed of.
Valentina and Roberta will take care of every aspect of your wedding, leaving nothing to chance with a strong attention to every detail.
personalized graphic kit (invitations, place cards)
clothes, makeup and hairstyle
mass booklets or civil ceremony
fans and gadgets for parties
support throughout the day of the event is available on request
The professionals of Bufano Dream Planners will be for you a valid help during the whole phase of the wedding preparations and, if you wish, we will join you on the day of the event, managing every situation and leaving you the only task to have fun , get excited and be happy. Because the real and only protagonists of the event are the Bride and Groom …
ALL INCLUSIVE WEDDING
If you choose Bufano Dream Planners, the staff will be at your complete disposal to plan your dream wedding! We will decide together the theme of the day with plenty of opportunities to choose among trusted and associated suppliers; careful arrangements will be made and coordinated material will be used; the staff will be present the day of the wedding to coordinate everything (if requested), so that you can just relax and enjoy your day.
LAST MINUTE WEDDING
One or two months before the wedding, the staff of Bufano Dream Planners will support you with the last part of the wedding organization such as assessing together the details yet to be defined, realizing carefully the decorative elements… the staff will be present on the day of the ceremony for every need (if you require it).
That love is all there is, Is all we know of Love
~ Emily Dickinson ~
Quando saremo due non avremo metà, saremo un due che non si può dividere con niente
~ Erri De Luca ~
Blog
Secondo il detto "sposa bagnata, sposa fortunata" ogni futura coppia di Sposi dovrebbe augurarsi un…

Il tavolo degli sposi: soli o in compagnia? Quando si avvicina la data delle nozze,…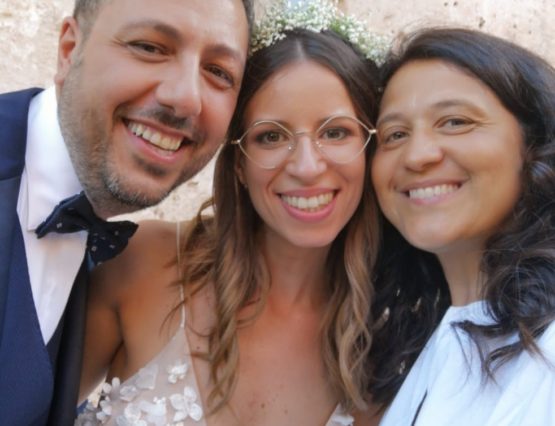 Appena svegli, ogni giorno, li cercate tastando sul comodino, parliamo dei vostri occhiali che ovviamente…
..and the dream
becomes
reality!
Contact us for an appointment!
Getting to know you will be a good start for us!Valentina & Roberta